Marketing funnels are, if you ask someone who has one that works, the eighth wonder of the world. Consistently turning traffic into customers and helping generate predictable profit on demand, a marketing funnel is one of the best investments a business can make.

Clayton Rowlings, Founder of Purpose Digital
If you are a business owner, a budding entrepreneur, or manage a business page on social media, you've probably heard the term 'funnel' thrown around a LOT — but WTF does that actually mean?
The definition of a 'funnel'…
A 'funnel' is a guided, step-by-step process that brings a person closer to a particular goal – such as the purchase of a product or service that solves a problem.
So in short, a funnel is a process – not unlike you would already have in your business.
In terms of marketing, this looks like a series of landing pages, chatbots, emails, articles and automations that guide a person on their journey from unaware of their problem to having that problem solved – or finding an alternative solution that does.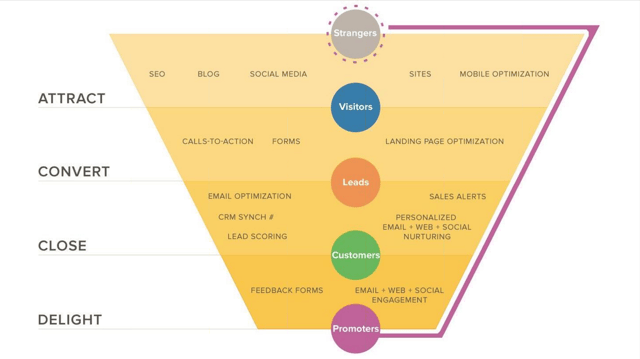 Why a funnel is important for your business:
Digital marketing funnels are the next evolution of the traditional experience a business provides to customers; questions are answered, interest is captured, goals and needs are identified and matched to solutions…
so why are they so much more effective than haphazard marketing?
A study performed in 2015 has confirmed that humans now have an attention span of 8.25 seconds – which has decreased from 12 seconds since the year 2000 – that's shorter than a goldfish's 9-second attention span.
This means your marketing and activities need to be more focused and streamlined than ever before…
A funnel allows you to create a natural, gradual progression that people can follow without being distracted by other websites, links, buttons, calls-to-action, chats… need we continue?
Despite this trend of shorter attention spans, new technologies used to create funnels are actually more effective than traditional ways of finding clients.
The death of "Hope Marketing" and profit yo-yo's
Digital marketing tools and funnels allow you to create systems that consistently generate interactions and nurture relationships with greater efficiency and less effort than what I like to call "hope marketing"…
"Hope marketing" is the old way of growing your business: going to networking events and contacting people to solicit your services, doing a good job for a client, and then hoping and praying that client starts to tell their friends how happy they are and how you solved their problem.
No control over the information the prospects are given…
No control over whether or not the client even mentions you or refers friends to you…
Sound reliable? Well, not really. You don't have the control to scale your referrals profitably and consistently.